Summary
AUDIO/VIDEO CONVERTER FOR WEBSTREAMING AND CAPTURE/ARCHIVING
The VC-30HD is a multi-input video converter and encoding device that accepts HDMI, Component, composite, S-Video, Firewire, and analog or digital audio via RCA, XLR, and AES-EBU. The VC-30HD can be selected to convert to DV, HDV, or MPEG-2 formats. The VC-30HD combines audio and video sources together and encodes to two Firewire streams and a USB audio/video device - all simultaneously. This is ideal and convenient for archiving to multiple devices like Blu-ray or HDV deck while at the same time webstreaming through a video streaming service on a computer.
Input / Output Diagram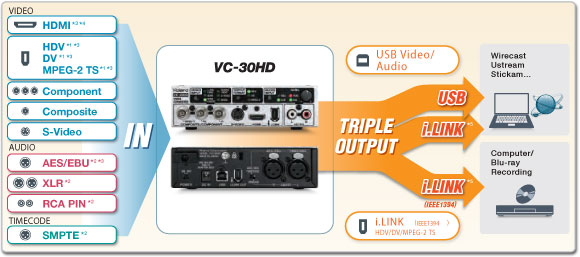 Dedicated software for the VC-30HD enables control of various parameters such as bit rate of MPEG-2 TS(HD: 50/35/8 Mbps, SD: 12/9/2 Mbps) and audio delay.
*1: USB output does not support embedded audio signal from IEEE1394 or control of audio volume.
*2: USB output supports bit rate up to 25Mbps.
*3: Mac does not have drivers to support HDV/DV/MPEG2-TS via USB.
*4: Audio and Timecode can be embedded in the IEEE1394 video output.
*5: Windows USB support for HDV format has become very limited and dated so should be avoided.
Built-in Audio Delay Setting
The VC-30HD has appropriate compensation built-in so audio and video are in sync from the USB or firewire ports with the delay setting at 0. However, depending on the total signal flow from all connected devices and/or the encoding/streaming software being used, audio may not always be in sync. The audio delay setting in the VC-30HD is there to compensate for whatever may be happening outside the unit. Set the delay as required by watching the final encoded stream. Use a clapper or a percussive device to clearly match the sound to the video image. The VC-30HD allows up to 30 frames of delay compensation (1 second) in increments of 0.1 frames (3.3msec) - enabling the perfect lip sync.
What's in the Box
Roland VC-30HD Video Converter
Rubber Foot Pad
AC Adapter & Power Cord
1 Year Limited Warranty